L'amour à la plage
Anne-Sophie & Damien // Perros-Guirec, France, 2018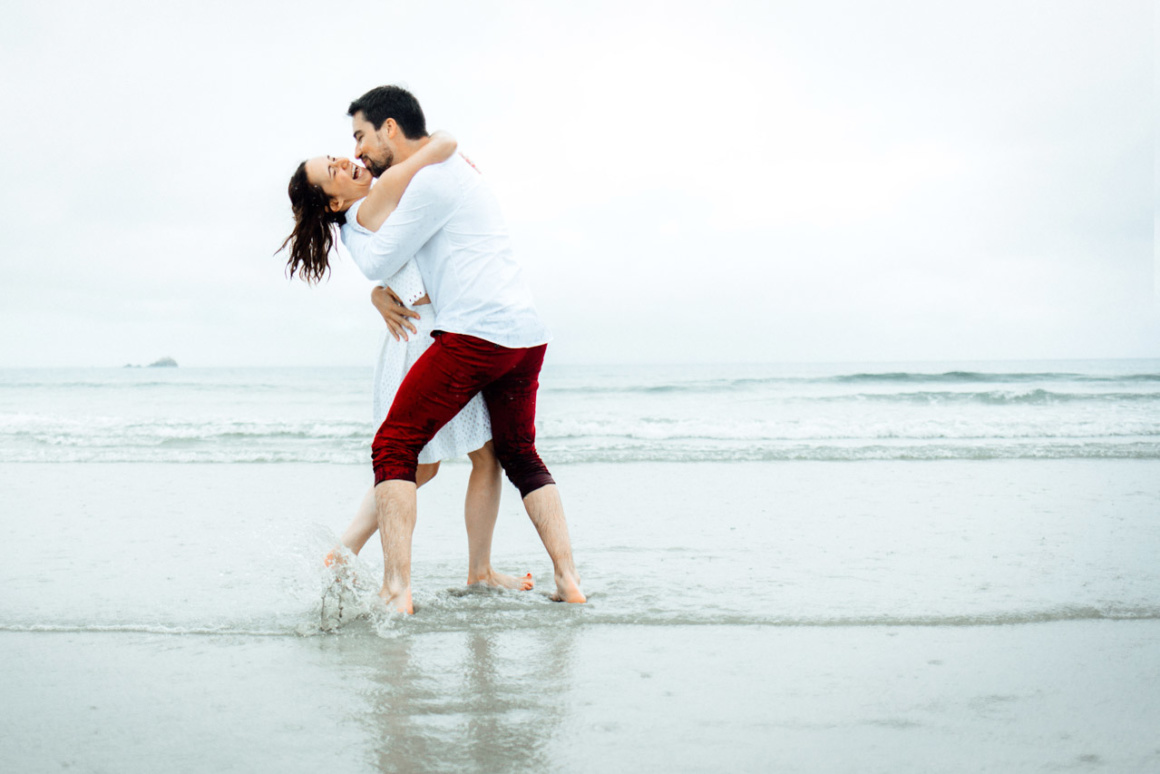 « Je connais quelqu'un qui fait de super photos de mariage, je la contacte si tu veux ?
– Je peux voir ce qu'elle fait avant ?
– Je t'envoie le lien !"
Voilà comment notre aventure avec Chloé a commencé ! Autant dire qu'il n'a pas fallu plus d'une seconde pour entendre un "Oh oui oui oui !" et lui envoyer un message pour la rencontrer. Comme une évidence pour nous deux, et pleine de sens !
Tout d'abord parce que nous souhaitions placer notre mariage sous le signe de la famille au sens large (proches et amis compris), et que Chloé connaissait Damien d'une précédente vie. Nous nous sommes donc tout de suite sentis en confiance sous son objectif tout autant talentueux que bienveillant.
Ensuite, parce que nous étions convaincus, aux vues de son travail, qu'elle parviendrait à capter toutes les jolies émotions dont nous aimerions nous souvenir, mais également qui nous auraient, à nous les mariés, échappés.
Sans conteste, l'un de nos meilleurs choix !
Sachez-le, Chloé :
– N'hésite pas à remonter le pantalon et se mouiller les pieds pour courir sur la plage.
– A le pouvoir d'invisibilité – On ne se rappelle même pas l'avoir vu pendant la cérémonie ou le cocktail, mais une fois qu'on a découvert le résultat, on a vu qu'elle n'en avait pas raté une miette.
– Vous soutiendra dans vos entorses au protocole : « Oui bah j'ai envie d'aller faire des bisous, on saute les photos de groupe nan ? »
– Vous fait vivre de vrais moments de pause et de grâce, alors que vous êtes pris dans un tourbillon, grâce à sa douceur et son objectif. Un plaisir et de jolis souvenirs.
– Est une invitée à part entière ! Véritable anguille et caméléon avec tous nos invités, elle a su les charmer et du coup les mettre en confiance à leur tour. Tout le monde se souvient de notre « photographe trop cool » !
« I know someone who takes great wedding photos, do you want me to contact her ?
– Can I see her work first ?
– Sending you the link ! »
This is how our adventure with Chloé began ! No need to say that it didn't take more than a second to hear a « Oh yes yes yes ! » and to send her a message to meet her. It was obvious to both of us, and meaningful as well !
First because we wanted our wedding to be focused on family in the broad sense (closed ones and friends included), and Chloé had known Damien from a previous life. We immediatly felt confident in ourselves under her talented and benevolent gaze.
Then because we were convinced, having seen her work, that she would manage to catch all the beautiful emotions that we would want to remember, but also the ones that we, the bride and groom, could have missed.
Undoubtedly, one of our best choices !
You must know that Chloé :
– Doesn't hesitate about pulling her trousers up and getting her feet wet to run on the beach.
– Has the power of invisibility – we don't even recollect having seen her during the ceremony or the cocktail, yet when we discovered the result, we could see that she didn't miss a second.
– Will support you if you break protocol : « Well yeah I want to go hug people, we can skip the group photos, can't we ? »
– Will make you live true breaks and graced-filled moments as you are caught up in a whirlwind, thanks to her sweetness and her lens. A pleasure, and beautiful memories.
– Is a full participant ! As both an eel and a chameleon with all our guests, she knew how to charm them and make them feel at ease too. Everybody remembers our « very cool photographer » !