Rock'n'roll vintage circus
Sibylline & Manu // Étampes, France, 2016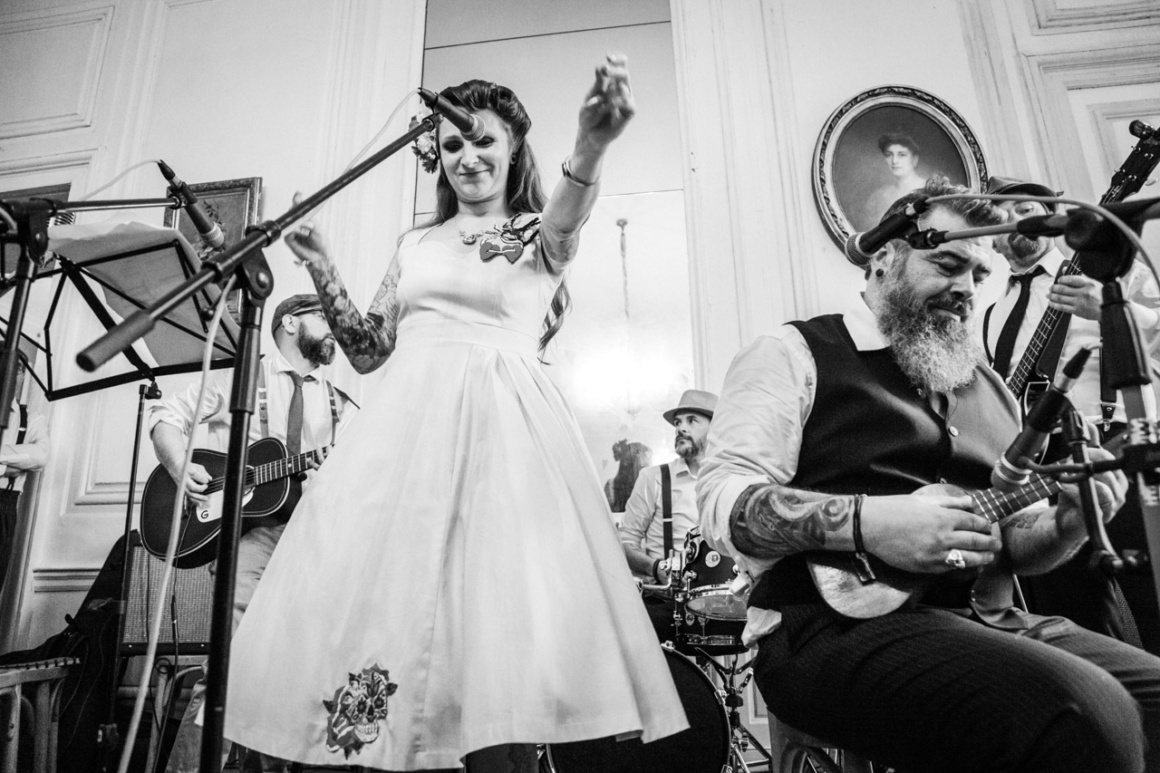 Les préparatifs :
C'était l'heure de la liste des préparatifs, des impératifs.
L'amoureux, mitigé sur l'intérêt d'avoir quelqu'un de professionnel pour faire clic clac, partant du principe, pas tout à fait faux, que tout le monde aujourd'hui fait des photos.
Moi convaincue, parce que les photos restent pour toujours, et que je ne voulais pas missionner des invités.
Mais qui alors, hein ?
Chloé et moi, on se connaît depuis un paquet de lustres. Et il se trouve qu'elle était déjà sur la liste d'invités. Il se trouve aussi que pour convaincre l'amoureux, je lui avais montré le travail de Chloé. « Et là, il a dit banco. »
Elle m'a tout de suite dit qu'elle enfilerait volontiers son costume de photographe officielle en plus de sa tenue d'invitée tout court.
On s'est vues, on a discuté, de ce qu'on voulait. Elle nous a donné des idées, des conseils, de quoi se rassurer. Je l'entends encore me dire « Mais non, il ne va pas pleuvoir un 11 juin ! »
C'était bien.
Le jour J – 10h00
Le matin du grand jour. Chloé était là, pendant tout. Ce moment précieux où on enfile, bout après bout, les morceaux choisis de la tenue du « oui ».
Des images de ces instants précieux, pleins de hâte, et de questions essentielles comme « Hé dis, on le voit quand même, mon nez malgré le mascara ? »
Y'a quelque chose de tendre dans ses yeux quand elle capture ces moments là.
Le jour J – 13h00
On file au château pour faire des photos rien que tous les deux en amoureux, Chloé sous le bras et sur le siège arrière de la voiture. En arrivant, il a plu, un barnum s'est effondré. Chloé est une formidable photographe, mais elle n'est pas météorologue.
En deux mots, elle a fait redescendre la douce panique, on est allé faire les andouilles dans un escalier. C'était parfait.
Le jour J – La mairie
Invisible, ninja. Je l'ai à peine vue, et pourtant, on a des photos de tout. Tous les essentiels, les larmes, mon mascara qui ne coule pas du tout, les amis, la famille, nos amours, les regards émus, mon nez.
Le jour J – La fête
Nous étions nombreux, un vrai casse-tête pour attraper tout le monde. Quand j'ai vu les photos, ça m'a raconté les moments vécus à droite à gauche, quand nous étions déci-delà. Rien n'a été oublié, le décor, les invités, les rires, la musique… merci !
L'après jour J
Chloé a contribué à rendre cette journée plus belle, plus simple. La question du souvenir n'a plus été une inquiétude à partir du moment où j'ai su que c'était elle qui capturerait tout.
Parce qu'elle vous offre cette deuxième vague de bonheur, quand les photos arrivent, et qu'on peut se replonger à s'embuer les yeux dans ce jour si beau.
Before the D-Day :
This was the time of preparations and priorities.
My sweetheart, unsure about whether we needed a pro to press the button or not, coming from the – not entirely wrong – idea that everybody is a photographer nowadays.
Me, convinced, because photos stay forever, and I didn't want to assign the task to our guests.
But who, then, eh ?
Chloé and I have known each other for ages now. And the thing is, she was already on the list of guests. And also, in order to convince my sweetheart, I had shown him Chloé's work. « Bingo ! » he said, « Lets do this ! ».
She told me at once that she would gladly put her photographer suit on in addition to her guest suit.
We met, chatted, about what we wanted. She gave us ideas, advice, everything to feel reassured. I can still hear her telling me « No, it's not gonna rain on an 11th of June ! »
D-Day – 10am
Morning of the big day. Chloé was there, the whole time. That precious moment when we put on, bit after bit, the chosen pieces of the « I do » outfit.
Images from those precious instants, full of eagerness, and essential matters like « Hey, can you still see my nose in spite of the mascara ? ».
There's kindness in her eyes as she captures those moments.
D-Day – 13pm
We flee to the castle to take some photos of just him and me, as lovebirds, Chloé with us and on the backseat of the car. when we got there, it had been raining, a marquee had collapsed. Chloé is a wonderful photographer, but she's not a meteorologist.
In a few words, she lowered the sweet panic, we did silly stuff in a staircase. Perfect.
D-Day – The Cityhall
She was invisible, she was a ninja. I barely saw her, and yet, we have photos of everything. Everything that mattered, tears, my mascara not flooding down my face at all, friends, family, our loves, emotional glances, my nose.
D-Day – the party
There were many people, a real brainteaser to get everybody on film. When I saw the photos, they told me stories about moments lived here and there, when we were there and here. Nothing was forgotten, the scenery, the guests, the laughs, the music… Thank you !
After the D-Day
Chloé contributed to make this day more beautiful and simpler. The issue of the souvenirs stopped being a hassle from the moment I knew she would be the one capturing everything.
Because she gives you this second wave of happiness, when the photos are delivered. You can dive back in that wonderful day, until your eyes get all wet again.